Restricted travelling within Europe during the COVID pandemic. It reminds me of holidays with my parents when I was young, when there were still passport checks at the borders within Europe. And that little sigh of relief from my father, when the border agent signalled him to proceed.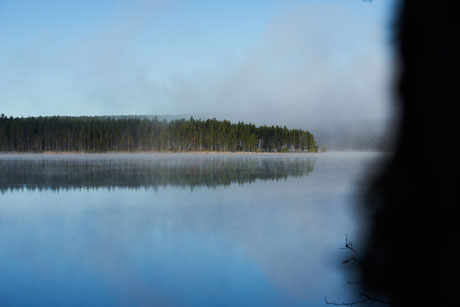 I felt the same when we passed the border of Denmark and Sweden last week. At last, after months of necessary restrictions, I felt free. And once again, I could spend a week in a canoe in the remote nature of Sweden. No phone, no laptop, no virtual interaction. Only my body, my senses and the physical world around me.
The nights were extremely cold for August, close to freezing point. We slept with all our clothes on in our sleeping bags, waking up at 5.30 when the first rays of sun hit our tent. The first task each morning was collecting wood and making fire- to warm up and to boil water for breakfast. After breakfast, we would pack up our gear and paddle for a few hours, only to repeat the cycle of collecting wood and making fire to prepare lunch.
Along the way, we would simply wait for whatever we encountered. If we entered good fishing grounds, we would stop and try to catch some. If we saw good dry wood, we would collect it for later. If we passed bushes with raspberries, we would eat as much as we could. We felt one with the beautiful wild nature around us- appreciating everything at a higher level. You never know what you will run into, but when you do- you embrace it. That's how we ended up with some nicely baked bass fish on our last day.
The challenges in nature are simple but profound: stay warm, stay hydrated, eat and make shelter for the night. And every day your creativity flourishes to become even better at meeting these conditions. You are continuously trying to improve your standards. And at the end of the day when your camp is all set, and you drink that little sip of whiskey that you rationed over the week- it tastes better than anything.
And now, it's time to get back to work. But with clarity of mind. To try every day to make complex things simple. To try every day to work with the people around you. To try every day to improve one step at a time.